A useful bass guitar VST plugin could be all you need to have a track pack a punch. Here are some of the best bass guitar VST plugins to help your mix for free and with paid license options.
If your music seems to be lacking oomph or power, it could be that your bass mix is off. Getting a track rocking and pumping out of your speakers might mean adjusting the low end of your production. Bass guitar VST plugins can be helpful whether you are recording or playing a live concert. Feeling the low end of a song can help you have a fuller and more professional song.
In this guide, we will detail some of the Best VST plugins for bass guitar available this year. We're going to be examining plugin options that are available for free, as well as some bass guitar plugins available for use only with a purchase. We also did a selection of guitar amp VST plugins.
FREE – Bass Guitar VST Plugins
Ample Bass P Lite II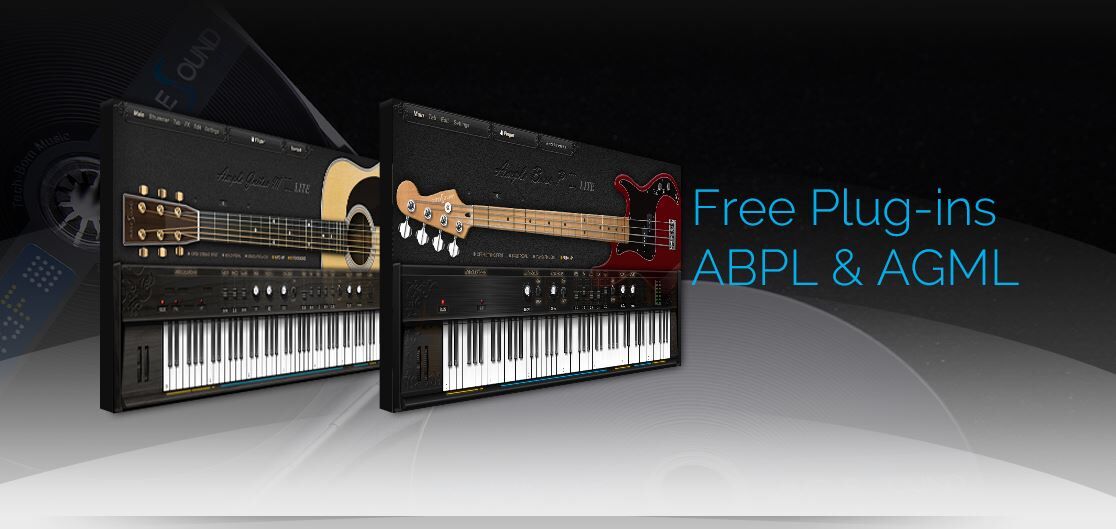 What's good: Super flexible interface to use, Massive soundbank
Not so good: Crashes without warning sometimes, Lack of effects for the sounds
Amplebass uses a wide range of sounds that are derived from the Fender P bass. You can get the kind of higher boost that you would get out of a five-string bass or baritone guitar as well as access some of the staple effects like wah, distortion, compression, and chorus.
With most impressive with Amplebass is the 3.8 GB library of samples, which span a wide range of playing techniques. You can make quick adjustments in the sample editor and even add in touches like slides and scratches to make the sample sound much more authentic.
If you want the fender sound on a budget, this is a fantastic plugin you can use to add depth to your songs.
Download
TAL-Bassline
What's good: A simple keyboard synth, Robust analog synth sounds
Not so good: Lacks many features of the paid version, It has only one version with minimal support
TAL bassline free is a keyboard baseline sympathizer from TAL software. The creators of this device set out to build a very simple keyboard synth that would include the option of compatibility for Mac and Windows with a -18 dB low pass filter.
It produces a very warm analog sound, and it has some nonlinear envelopes for a swift sound. The synth is a great no-nonsense option to learn on.
Download
TAL-Elek7ro
What's good: The best 80's hybrid synth sounds, Assignable functions to CC-Midi, Excellent interface including panic switch off
Not so good: Can have a slightly digital sound with some effects, Can have some compatibility issues when loading samples
Tal Elek7ro is a free VST plug-in and complete 80s hybrid synth that has been digitized for use with midi devices or on screen. It features a user interface with two oscillators and some fine-tuning buttons throughout.
The creators used 4x oversampling with their sound effects to make sure a commercial-grade sound was available from this product. Bass effects are one of the main strengths of this device, but it also produces some fantastic piano effects.
The advanced sub-oscillator, semitone tuning, and selectable waveform offer up the chance for some excellent sound tweaking too.
Download
The Synister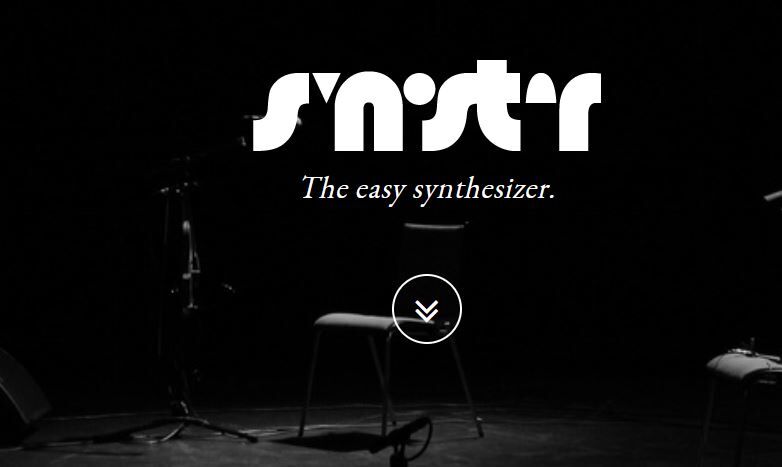 What's good: The most straightforward and most visually appealing, Open source, It is built to resemble pro-audio workstations for mac
Not so good: The user interface can be too simple at times, Tough to make fine adjustments
A group of students launched the Synister team for creating Mac and PC music. It is a full virtual synthesizer with a wide range of EQ and control elements. As this is an open-source project, new FX modules are being released regularly on GitHub and other platforms.
The program features three oscillators and the chance to modulate noise and effects inputs during a recording or live performance. The simple synthesizer can be used as a quality chorus pedal in real-time or help as a clipper and bitcrusher for sound sequences and recording. There are some neat features and sounds that you can create, especially as you experiment with the new soundtracks being released.
Quick adjustments in this program can sometimes create significant changes, so it is essential to keep your dial tweaking to a minimum when you find sounds that you like.
Download
Sforzando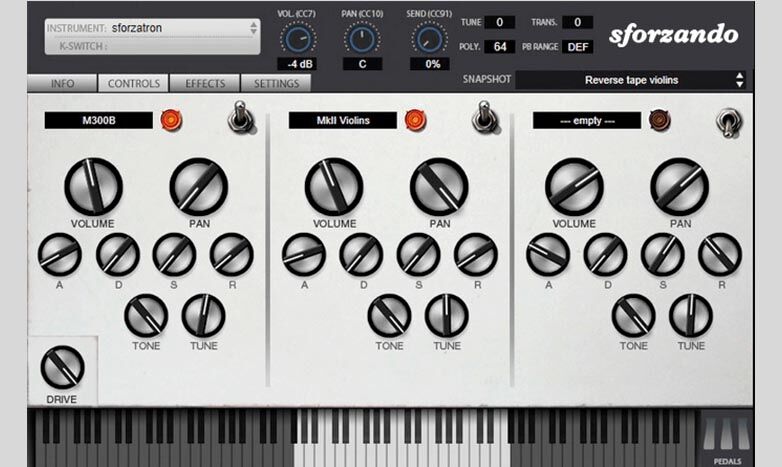 What's good: The best SFZ file player/Sampler, Simple interface with one instrument slot, Analog editing in a text editor for quick changes
Not so good: No effects, Not Multitimbral
If you are seeking a higher-quality sound bank of instruments in the SFZ format, it's tough to think of a better option than Sforzando. The program is available on Mac and PC as a sound bank edit features drag-and-drop compatibility with SFZ files.
This allows for a large number of instrument tracks to be created using the program. You can quickly flesh out a fantastic quality of sound using edits in a text file. The sound output from the data is always accurate, and the output formats offered are in WAV or OGG with FLAC as an option as well.
The sound quality here is still hot, and this could be the perfect option for creating set banks for basslines and more.
Download
Freeware Synth Tyrell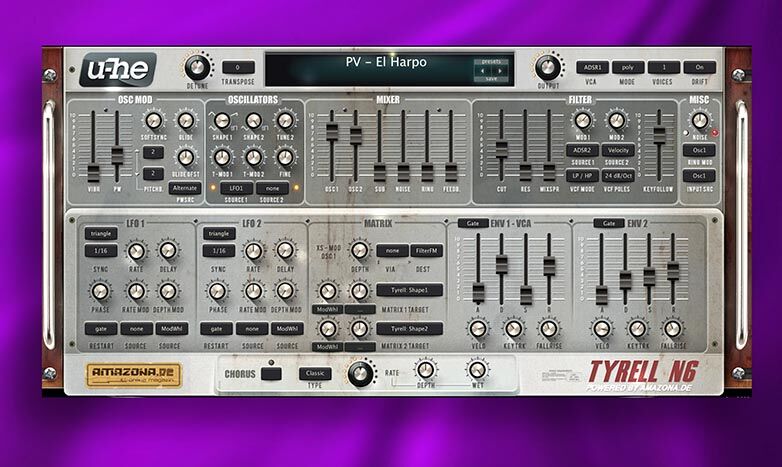 What's good: The Best Roland Juno 60 Sim, Instrumental sounds for versatile playing options, Great compatibility, A fun design that looks like a Juno 60
Not so good: Not friendly to learn on, A lack of updates
The Tyrell Freeware synth delivers all of the features that you would get from a Roland Juno in a completely free format. There are plenty of forums where you can learn more about how to use it, but this program doesn't even come with an instruction manual from the creators.
If you're experienced with Bass VST synths, this could be worth a download, as this has some very compelling parameters for shaping your sound. It has a soundbank that similar to the u-he ACE synthesizer and features two oscillators with different shaping technology. There is also an LFO, ADSR, and modulation matrix.
You can make some truly classic and powerful sounds with this synth, but it takes some time to master.
Download
Sinnah VA Synth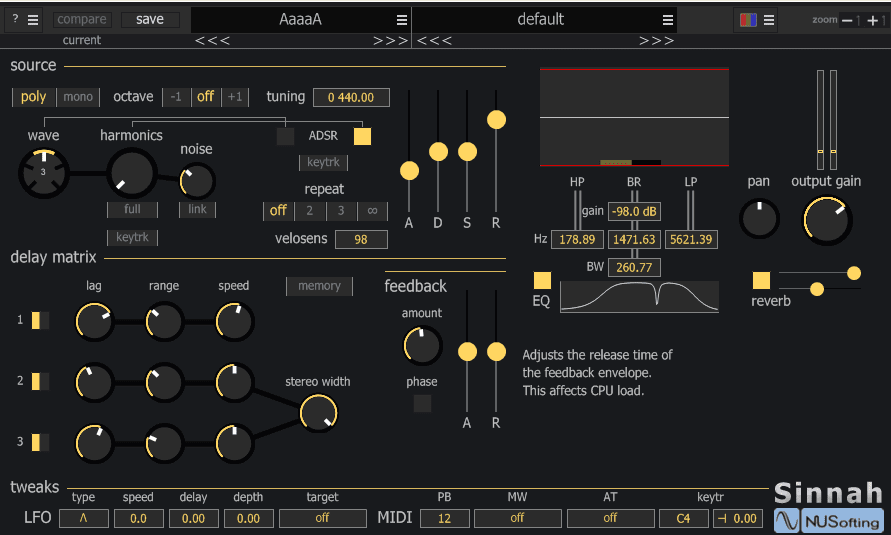 What's good: The best Digital Pad Synth alternative, Simple interface for performance, Delivers a full sound with detailed waveshapes
Not so good: Lost compatibility with FL studio, Mediocre presets
Sannah is a since that resembles a digital pad synthesizer with several complex oscillator sounds. There are five selectable wave shapes which can take on a full sound.
With digital pad presets that range from heavy bass to melodic woodwinds, there are plenty of sounds to experiment with here. The synth pre-sets can be interesting to work with as some are quite complicated, whereas others can sound very fake and mediocre.
A bit of editing to the pre-sets and sounds can leave you with some full and flavourful options for your music.
Download
PAID – Bass Guitar VST Plugins
Scoring Bass Kontakt Instrument by Heavyocity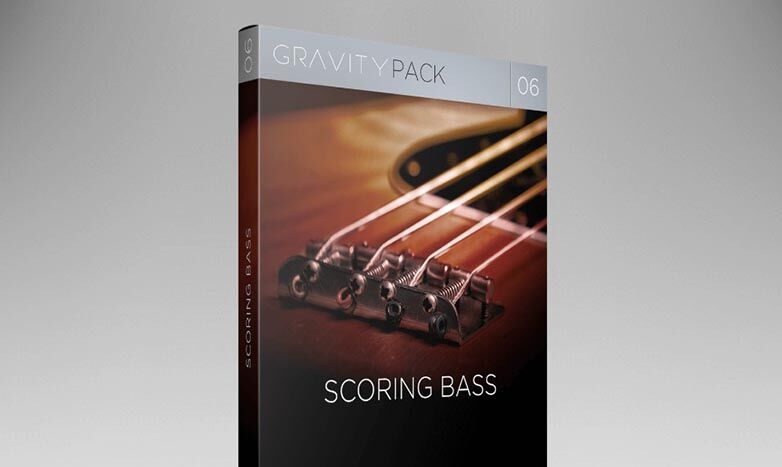 What's good: The best standalone pack for Kontakt, Over 300 presets, Easy compatibility for Kontakt 6, 233 NKI's and growing
Not so good: Can come with an expensive price tag at $99, Some adjustments can feel too aggressive
The Kontakt Bass Gravity pack is truly a professional tool that you can access for composing or building new bass effects into your tracks. The Kontact six sound pack introduces a number of different playable basses like Sire, Ken Smith, Warwick, and others.
The UI allows for blending a number of different effects, and there is a wide range of pedals, grooves, and pads to choose from. Whether you need a backing base track or you are interested in tempo matching your tracks, this is an intuitive addition with some beautiful tones included. Making some minor adjustments to some of these professional tools can be challenging at times.
The smaller changes to the samples can sometimes feel too aggressive.
Download
Tal Bassline 101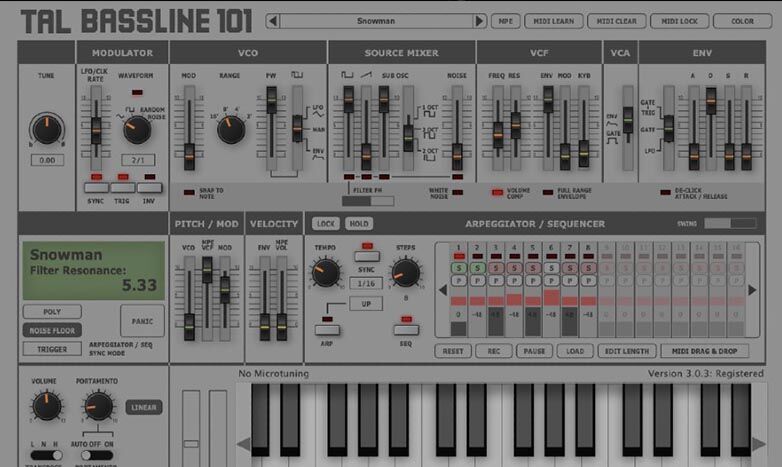 What's good: The best Roland SH 101 sim, Delivers a fantastic sound quality, Offers velocity control and a zero feedback delay filter
Not so good: Only works as single ADSR like the real product, Has a learning curve if you are not familiar with the board
The Tal Bassline 101 is a digital re-creation of a pre-MIDI SH-101 board that was designed as a simple sequencer. This device came with an oscillator and sub-oscillator with just the chance to adjust one envelope generator.
The effects were shared between the filter and amplifier. Even though this board had minimal options on it, it could produce a real punch, and it became popular for creating sounds in industrial music as well as new wave pop. Getting these sounds at home is now possible with this SH 101 board that has been entirely digitized.
Download
Audified Live Guitar and Bass Bundle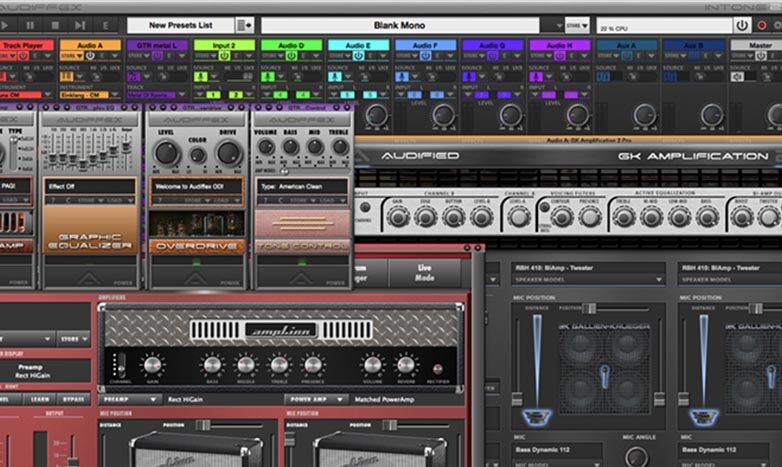 What's good: The best value bass effects bundle, An excellent bundle discount on multiple sounds and effects, Includes 36 pedals
Not so good: Requires GK amplification 2, pedals and eq running at the same time for live performance, Multitrack recorder can have some delays
The Audified has produced a set of plug-ins and applications for recording bass and guitar, as well as keys and vocals. The effects suite includes a wide range of pedals, eq, amp, and microphone simulators.
With this program, you can create any studio environment in a digital realm. With a wide range of cabinets, amps, pedals, microphone simulators, and more, you can have a specific live sound without having to invest in so many pedals.
The recording process is also more natural with the multitrack recording options in the program.
Download
Trilian from Spectrasonics
What's good: The best acoustic bass pad, Amazing processing, Easy interface, Great synth sounds
Not so good: The browser is tough to navigate, No patches
Trilian from Spectrasonics has an awe-inspiring library of new sounds with over 34 GB of samples. There's a wide range of electric bass and acoustic bass in this program.
Examples include options like the CS 80 Yamaha, Fender jazz, and music Man five-string. Multi-samples for dynamic slides, legato, and more are features that present a realistic bass sound.
The wave shaping here can produce a very layered sound, and there is the option to use for tabbed screens for the interface to create even more in-depth customization on bass effects. With the brilliant level of customization here, you can build strong lead bass.
Download
Native Instruments Scarbee Rickenbacker Bass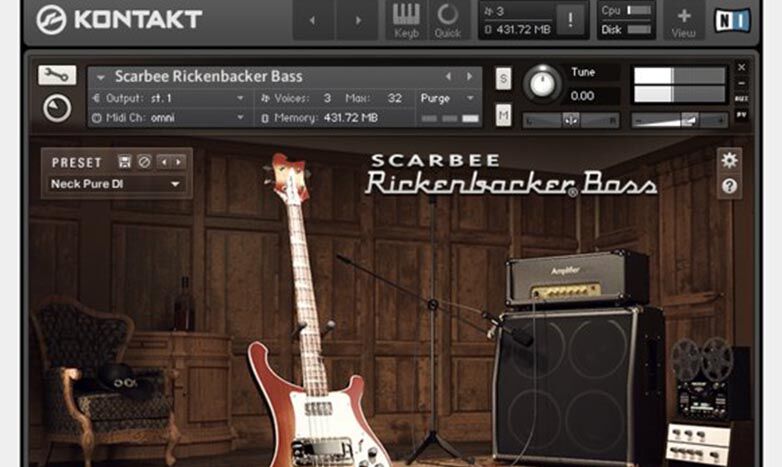 What's good: The best Rickenbacker Bass sound, Super simple to use like most Native Instrument plugins, Excellent effect chains, Very high-quality sound
Not so good: The options for play styles can be overwhelming – they are cut down to milliseconds, Can lack smoothness in Jazz bass settings
The Native Instrument is well known for producing incredibly authentic instrument sounds. The Scarbee Rickenbacker bass pack is one of the best ways to access the audio from a Rickenbacker 4003 bass.
The plug-in is even approved by Rickenbacker, who helped out with its creation. The software comes with a standard Rickenbacker 4003 bass sound and a series of proprietary effects and styles. Customizing the playing style, hand positions, effects, and more are all possible through this pack.
There are two different amps and seven different configurations of cabinets, but this is a pack for players looking for the pure Rickenbacker sound.
Download
VIR2 Basis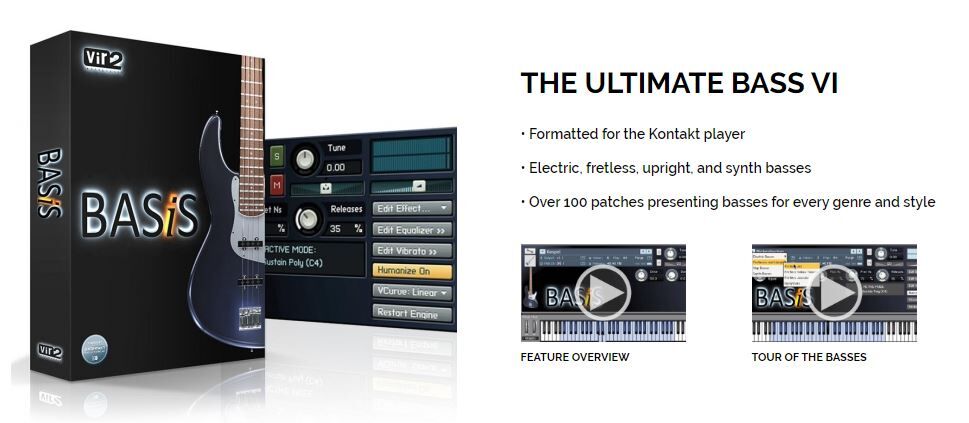 What's good: The best natural Bass tones, Ready to use for bass out of the box, Natural sound
Not so good: Not the best for synth bass, Adjustments require a steady hand
The VIR2 Basis is a program that is specifically designed for bass. It has several features, including compression, chorus, delay, octave, lo-fi, and more.
The tone bank is also quite rich with the sounds of Motown, Hoffner, and gospel bass all attached in the program. There is a series of free patches available to give you the perfect Fender Jazz bass too.
With a series of pitches and the incredible tone bank here, you can build some very natural sounding tracks.
Download
Modo Bass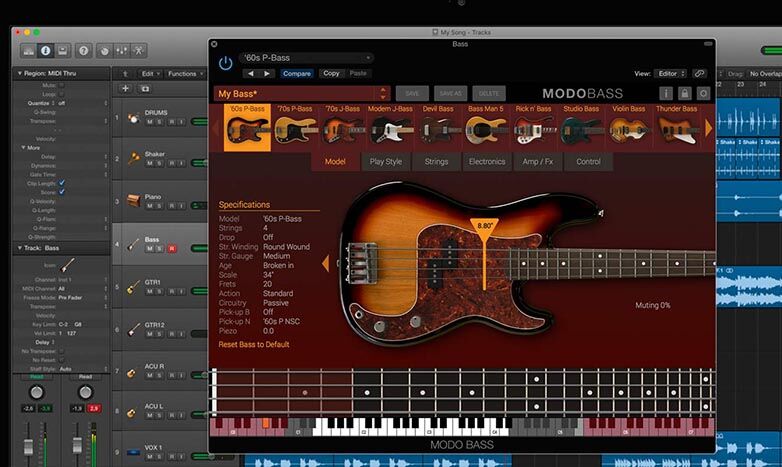 What's good: Feels like physical sound modeling, Sounds natural, Easy to use
Not so good: Some delay with mono, No options for fretless or six-string
IK multimedia spent eight years developing ModoBass, which produces emulations of 12 classic electric basses. The techniques utilized in the samples here sound incredibly natural, and adjusting the effects feels just like you are doing it on a panel or amp.
The control knobs can be assigned to MIDI controllers with full access to the seven processors for live performance. The final output can be highly customizable, and you can cut down on string noise and fret noise for some clean bass lines.
Download