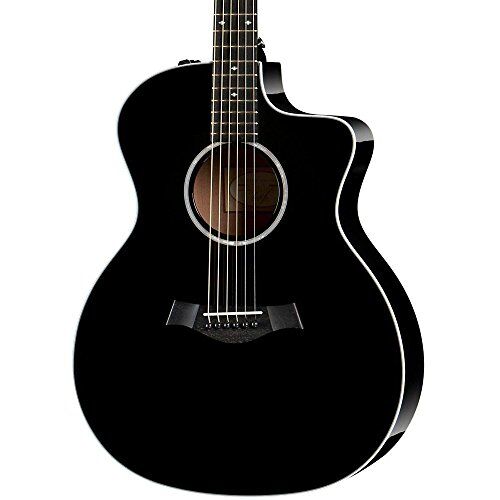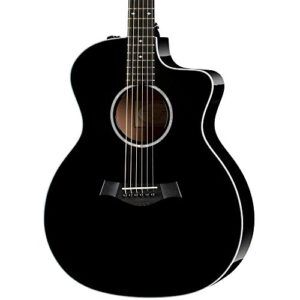 Finding the perfect guitar can be the real difference between a success and failure. When it comes to Taylor guitars there are many things that one should keep into consideration. The most important thing is to decide on your playing style. The more you are aware about your playing style, easier it is to find the perfect Taylor guitar. Selecting the shape of the guitar is also very important. Wood is the real essence of the guitar, once you have found the perfect shape which you like the best, then try playing different models with similar shapes but different wood. Pay attention to which one inspires you the most and select accordingly.
Selecting the shape of the guitar is also very important. Wood is the real essence of the guitar, once you have found the perfect shape which you like the best, then try playing different models with similar shapes but different wood. Pay attention to which one inspires you the most and select accordingly.
2014 Taylor Custom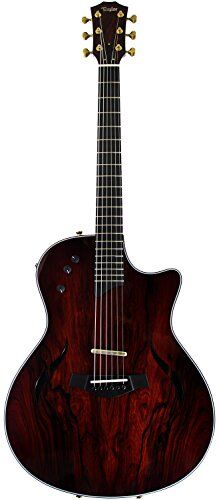 Pro:
Superb Looking
Con:
No warranty
Custom Made: 2014 Taylor Custom is a beautifully crafted guitar which offers rich black colored rosewood back and sides of Grand Auditorium Taylor Guitar. It is a very pleasant guitar which offers a big package for the players. The main attraction of the guitar is its looks but that doesn't mean that one has to compromise on the sound quality. The Brazilian rosewood installed in the guitar has never been owner by any private owner which can make you one of the lucky ones to get this beautiful piece of equipment. The only problem with the guitar is that it does not comes in with the Taylor warranty as it is being sold as a used piece. But in spite of that it is a dream guitar to possess.
Taylor T5z Pro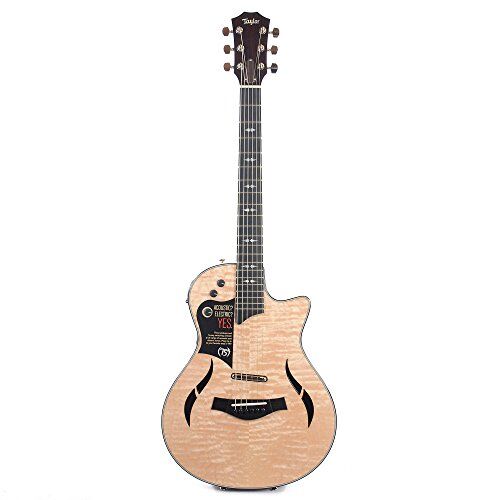 Pro:
Great sound, easy to use
Con:
High Price
Well Designed: The T5z Pro resembles a lot to T5 in terms of its design, in fact they have made it even more fines to appeal to those who are primarily electric guitar player. Overall body dimensions are smaller than the T5. Neck also is of 12-inch radius and a jumbo frets that are perfectly designed to appease electric player. When plugged the T5z produces tones which are more reminiscent of a semi hollow electric guitar, which provide fat, gutsy midrange and all the feedback that you could even want in a guitar. On the whole it is an ideal solution for guitarist who want the comfort, adaptability and sound of an electric guitar but need an instant access to realistic acoustic tones.
Taylor T3 T3 Standard

Pro:
Concept, Quality, High Volume
Con:
Less Responsive, deep neck
High Sound: Just like the T5, T3 is the electric variant from the Taylor. In terms of size its big, single cutaway guitar with a body which is approx. 505 mm long and 408mm wide. T3 has a single cut design which makes its body a inch longer then the e5-335. In terms of construction it follows the similar path as followed by the T5, but is a lot more electric. There is a two piece center joined sapele back which is hollowed out, which leaves not so much of a center block but two thick ribs which run to the center. In terms of the sound also it does not have a very loud acoustical but a very pleasing and lively resonance.It is one of the best taylor guitar for the money.
Taylor T5 Classic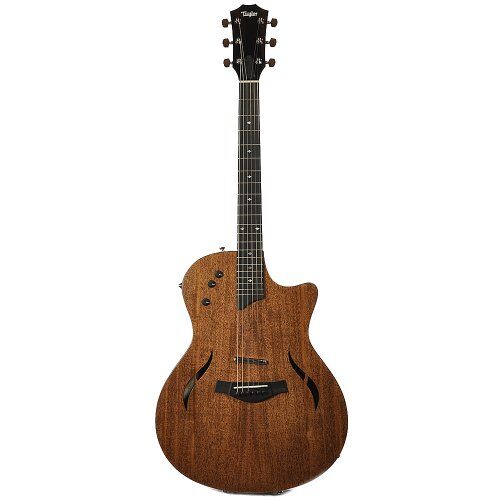 Pro:
Well designed, good looking
Con:
Price
Classic: When it comes to Taylor you can be rest assured of the looks. The Taylor T5 has a mahogany top with Sapele neck and heels. Back and sides of the guitar are also made of beautiful satin finish which adds to the aesthetics of the guitar. But one thing which truly sets the T apart is the three-way pickup system which is installed in the neck humbucker. There us a visibly stacked humbucker and a hidden body sensor which can be mounted just behind the bridge. There is s 5-way selector added into the guitar which gives it its name.
Taylor 214ce Deluxe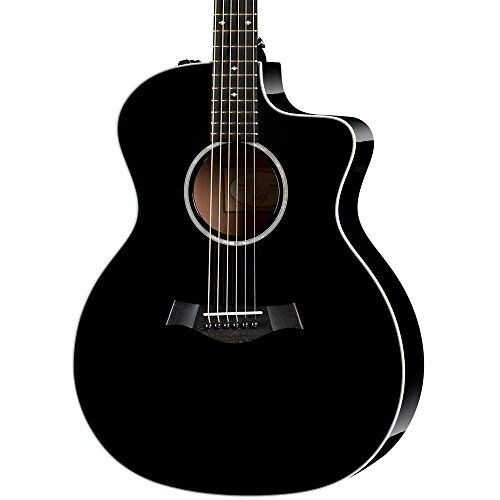 Pro:
Highly playable and a bright guitar
Con:
Poorly built
Great sound: It's a basic 6 string guitar offers great acoustic sound. The guitar is one of the most stylish in the Taylor series. Its jet black color looks extremely amazing. The guitar has grand auditorium body shape and has a cutaway. The built of 214ce Deluxe is acoustic and is partly solid from front. Considering its price overall it's worth every single penny spent. Overall the guitar look extremely stylish and offers great play.
Taylor Guitars 200 Series 214-CE-G Grand Auditorium Acoustic-Electric Guitar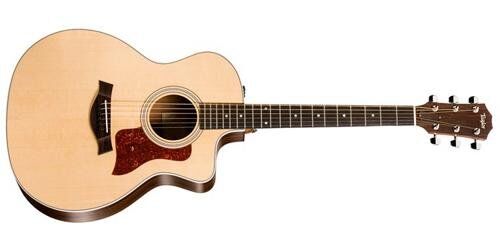 Pro:
Looks extremely stylish and sounds great
Con:
At times poor at pickup
Best countryside music: As compared to other Taylor series this is the special piece we bought. The guitar sounds really great and the best part it is tuned well right out of the box. The guitar is extremely stylish in the look. It offers a more natural look as the body is made with Solid Sitka and rosewood. The guitar offers a grand auditorium. Also, you get a hard shell bag to ensure the guitar's safety. Overall it's an ideal purchase for music lovers.
Taylor Guitars 110e, Dreadnought, Solid Sitka Spruce, Sapele Back/Sides, ES-T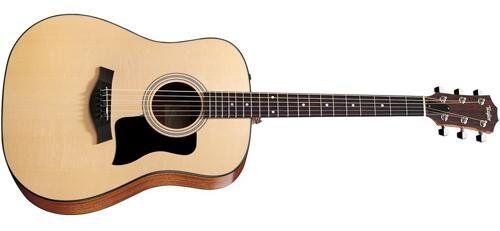 Pro:
Best for intermediate player
Con:
Gig bag does not offer good protection
Ideal for beginners: Taylor Guitars 110e is an ideal guitar for beginners. If you are looking for a cheaper option in guitar Taylor guitars has offered the best option. The 110e offers solid crisp sound. If you can't afford expensive guitars this is best option for you. It's is built with Solid sitka spruce and Sapele in back and sides. The pack also includes a gig bag. The Taylor 110e supports ES-T Electronics.
Taylor 150e – Dreadnought 12 String
Pro:
Affordable, Good Sound
Con:
Not enough responsive
Good Concept: Taylor 150e is one of affordable 12 string model which is available at a cheaper price than usual. This full sized flat, top features guitar has sapele bracing pattern from back and sides and also a solid sitka spruce on the top. To provide effective resonance, wood used on the guitar is ebony fretboard with black binding on the top, back and on neck. Anyone who wants to add a 12 string sound can go for this medium ranged guitar and get the most out of it. Being a cheaper alternative this is a very effective alternative which should be considered.
Taylor Guitars GS Mini Reduced Scale Grand Symphony Acoustic Guitar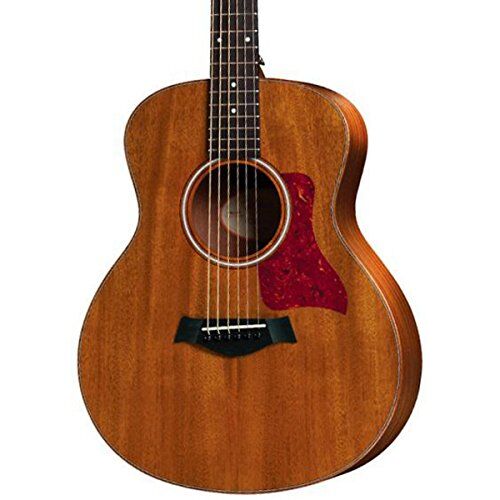 Pro:
Good built quality, price, sound
Con:
Nylon stringed, cedar topped
Mini: As it names itself states, the GS Mini is the down sized variant of the GS shaped acoustic which is built to be a street range guitar for the common public. If compared to the full sized variant, the GS mini is just 51 mm less in length and about 86 mm overall short from the full sized GS. In terms of width it sheds of about 48mm and 5mm from its depth. In terms of sound it is just of the same level as that off full sized one. It's lighter in the bass but in terms of sound it packs a good deal.
Taylor BT2 Baby Taylor Acoustic Guitar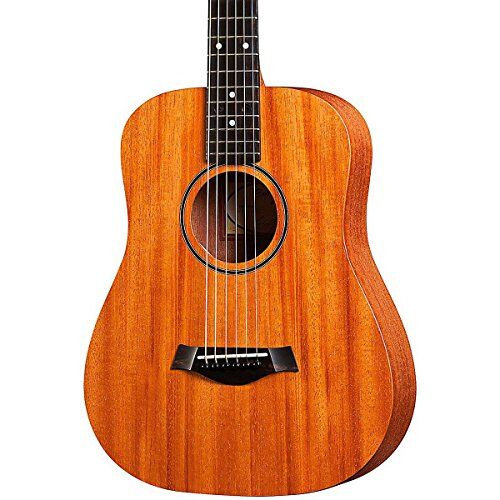 Pro:
Cheap, Good Looking
Con:
Sound could have been better
Cheap: Taylor BT2 is a very effective scale dreadnought shaped guitar which has a slightly arched back. The BT2 comes in two distinct types which user can select according to their liking. This is a very well sounding guitar that can provide you the required sound with superb ease. Out of the two, the BT2 with mahogany finish is a very effective choice. The guitar is fun to play and superb to sound. The tone of the guitar is not the same as the one gets with full sized guitar which makes this a very effective buy.